2019-2020 Player Awards
---
---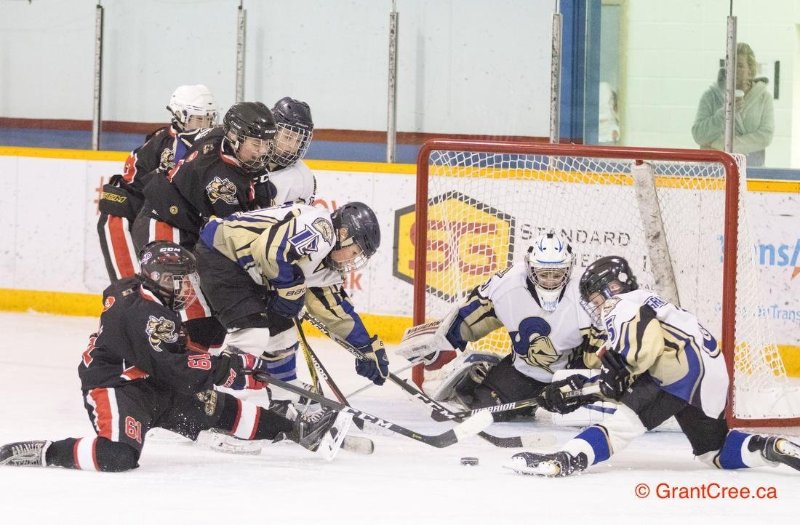 ---
Are you an SHC Coach who has an outstanding player on your team that you believe deserves to be recognized this season? SHC is asking our Coaches to once again nominate a deserving individual on their team by February 18th for the following Player Awards:
Kevin Lynch Memorial Award
Most Improved Player - Novice
Each Novice Coach is asked to submit one person from their team, with reasons why he/she is the most improved player. The award committee will then choose one person to be the award recipient.
Coaches should be looking at improvement in the following areas:
-Skating
-Hockey Skills
-Hockey Sense
-Attitude
Leigh Kilarski Award
Best Sportsman - Atom
Leigh Jacob Kilarski, born October 23, 1983, son of Ray and Sue Kilarski, passed away tragically en route to a hockey game on November 19, 1994.
At the tender age of 11, Leigh was in his second year at the Atom level and was playing for the Morinville Icebreakers. Leigh was an exemplary team member in many ways. He will always be remembered as a highly motivated, enthusiastic, respectful, congenial, well liked player and friend. Above all, a true sportsman.
The criteria for this award is:
-Must exhibit motivation
-Enthusiasm
-Respect for others
-Congeniality
-Good sportsmanship
Nicholas Deschenes Award
Outstanding PeeWee Player
Nick played most of his minor hockey in Morinville, is a Morinville Jets Junior B hockey alumnus, played hockey in the AJHL, ECACHL (Yale), AHL, ECHL, and most recently professional hockey in Europe. He has been fortunate enough to use hockey as a tool to receive an education learn another language and see other parts of the world. He is dedicated, passionate about the game and a firm believer that hard work, perseverance and determination can take you anywhere. And after you have finally reached your goals and dreams, remember where you came from because family, friends and community are the foundation. Remember, a smile a wave and some encouragement can go a long way.
Play hockey with all the speed, skill and determination that you can muster and when that is exhausted, continue to play with your heart. That is all you can ask of yourself. "When you focus on the journey, the end goal is not so far away". The values and attributes most reflected or exemplified by that player recommended for the award should include:
-Hard work and good work ethic
-Teamwork
-Leadership (on and off the ice)
-Sportsmanship
-Perseverance and determination
-Community service / volunteerism
-Scholastic achievement
Dacs Jan Mitchell Gray Memorial Award
Bantam Rep
Award is to be presented to the Bantam Rep player whose actions clearly demonstrate:
-The supportive attitude of a team player
-The determination to set an achieved self-directed goals
-The courtesy and diplomacy of sportsmanship
-Encouragement and respectful treatment towards all ages
Bradley Arcand Yellowdirt Memorial Award
Midget AA - Best Winger
Bradley Arcand Yellowdirt passed away tragically in a motor vehicle accident March 5th, 1994, at the age of 16 years old. Bradley was in his second year Midget A hockey and was playing for the Morinville Altrac Warriors. He will always be remembered for his determination, power and hustle as a Winger. This award goes to the best Winger at the Midget A level. Criteria for the best winger:
-The recipient must be a winger
-Must exhibit determination, power and hustle
Jeff Richardson Memorial Award
Top Goaltender Junior AND Senior
*Novice-PeeWee and Bantam-Junior
Jeff Richardson, a passionate goalie, passed away at the age of 21 in a motor vehicle accident on February 18th, 2005. Jeff played for the Morinville Peewee and Bantam AA team and then played AAA for Strathcona and St.Albert. He was then signed by the Junior A Canmore Eagles before an out-of-town trade brought him home to play for the Jets. He finished his hockey career with the Morinville Junior C Club. In honour of Jeff, each year his memorial award is given to the top Junior and Senior goaltenders in the Sturgeon Hockey Association.
The criteria for this award is:
-Good ethics
-Strong love for the game
-Dedication
-Strong skating ability
If a coach wishes to recognize an SHC player for any of the above awards, please send your nomination and a brief explanation on why you believe the individual is deserving of the award to communicationsdirector@sturgeonhockeyclub.com.
Please send all nominations prior to February 18, 2020. All award nominations to be reviewed by the Awards Committee made up of members from the Board of Executives. Player awards will be presented at the last home games of the season.