AGM
---
Annual General Meeting
Date: Thursday, May 25, 2023
Time: 6:30 pm Doors open (snacks and refreshments provided). Meeting will begin at 7:00 pm sharp
Location: Morinville Community Cultural Centre (9502 100 Ave, Morinville)
Important: The association would like to make some minor changes to the bylaws that require quorum of the voting membership. Your attendance is required to make this happen! Proposed byLaw changes can be viewed HERE.
All participants will be required to pre-register. REGISTER HERE!
(Members must be in good standing to attend)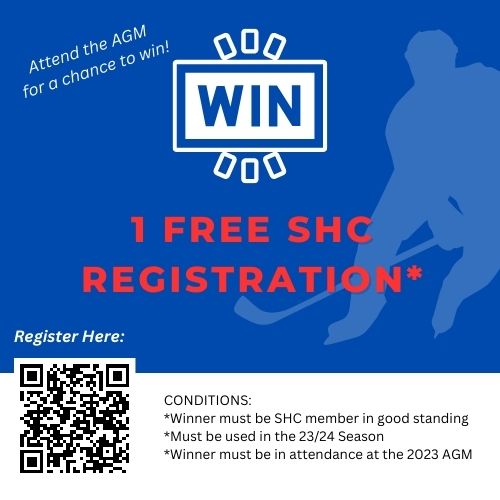 ---
SHC 2022/23 Season Award Presentation
Awards are presented at the AGM (May) and Morinville Kings Brenda Stewart Memorial Game (October).
We will be celebrating our award recipients for the 2022/23 season following the formal part of the AGM. We would love to have as many people there as possible to recognize some of the successes our players had from this past season.
---
Board Positions up for Nominations
Formal nominations closed Sunday, April 30, 2023 at midnight. Please see the listing below.
We need your help. All vacant positions MUST be filled. If you are interested in what a position entails, please reach out to president@sturgeonhockeyclub.com.
Executive Committee (2 Year Term) - voting
POSITION

NOMINEE

STANDING

Vice President

Ryan Cushing

Acclaimed
Hockey Operations

VACANT

Secretary

Robert Potter

Acclaimed
Registrar (non-voting)

Jennifer Lockridge

Malinda Northcott

VOTE - May 25
Director of Ways and Means

Donna Hanssen

Acclaimed
Hockey Operations Committee (1 Year Term) - non-voting
POSITION

NOMINEE

STANDING

Communications Director

Tanya Sloan

Acclaimed
Coaches Director

Jennifer Lockridge

Acclaimed
Equipment Director

Daniel Blundon

Acclaimed
Referee in Chief

VACANT

Referee Assignor

VACANT

Director at Large

VACANT

Ice Scheduler

Malinda Northcott*

Nadine Sowers*

VOTE - May 25
U7 Director

VACANT

U9 Director

VACANT

U11 Director

VACANT

U13 Director

VACANT

U15 Director

VACANT

U18 Director

Rae-Lyn Lefebvre

Acclaimed
*Nominee Biographies