2021-22 SHC Volunteer Awards
---
---
Presenting our 2021-22 SHC Volunteer Award Recipients!
Terry Grykuliak Memorial Award
Terry Grykuliak, born May 17, 1951, passed away tragically en route to his son Tyler's hockey game in Barrhead on November 19, 1994. Tyler was critically injured. Miraculously, Tyler recovered and resumed playing hockey several months later. Terry was the manager of the Morinville Ice Breakers Atom B team and was an outstanding hockey volunteer for many years. He served in many capacities as a team manager, assistant coach, equipment manager, and a MMHA executive board member. Terry will be remembered as being a dedicated person, always willing to lend a hand in any way he could. The recipient of this award must demonstrate dedication, devotion and a willingness to lend a hand as well as serve in an official capacity as an Assistant Coach, Manager, or SHC Board Member.
2021-22 Outstanding Hockey Volunteer Recipient - Jenn Duquette, Team Manager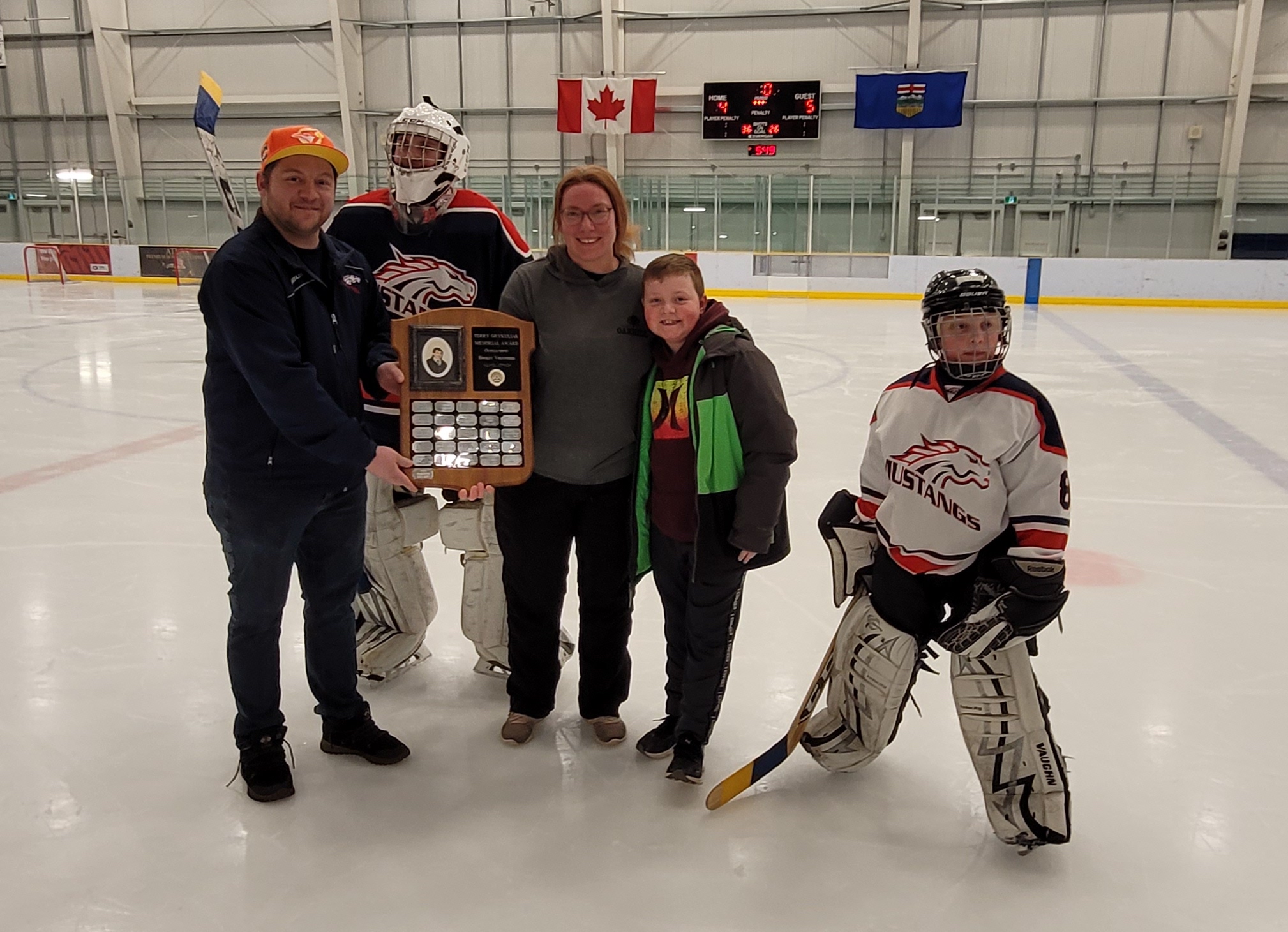 Pictured above are Weston Koroluk, SHC Director of Game and Conduct, with Jenn Duquette and her three boys
"Before fundraising started and while team accounts were being created, she guided the team to ensure the responsibilities were still being done. This passed on her knowledge and experiences to the parents. She used her own money to pay the refs until team money was gathered. She is not only the manager of this team, she has two other boys in the club who she manages. Her time and dedication for Sturgeon minor hockey is out of this world especially being a manager. I can't believe how organized she is and how dedicated she is to these kids and the kids on the other teams as well. She is so positive and keeps the morale up!"
-Vikki McLaren, SU303 Team
Brenda Stewart Memorial Award
Family Spirit
In 2017 Brenda Stewart, Registrar and Director of Communications for SHC, passed away unexpectedly from a major heart attack. Brenda not only held a major role in SHC, but also the greater role of being a loving and devoted spouse to past president Wayne Gatza. When Brenda came into Wayne's life in 2009 with not having any kids of her own, it was far from her mind to ever join or much less be a member of a minor hockey association. However, with her generous nature and kind soul she stood by Wayne's side and together they lived the "hockey life". She learned everything she could about the game while making it her own brand and exceeding all expectations in her volunteer role within the Association. She adopted the "hockey mom" mentality and had nothing short of the hockey spirit. There wasn't one family that she didn't know, one name she couldn't remember and very rarely did she forget scores and stats of members of her own loving family. She also stepped up and ran the concession on behalf of the Morinville Kings while spending every weekend out of that window watching any game that was being played on the ice. Her dedication and devotion to SHC was seen through everything she did, all without asking or complaining. If asked, she would simply say she did it all for the kids.
The deserving family of this award, in honour of Brenda Stewart, will have proven that they are committed to the well-being of the Association through their volunteerism. They will have shown their willingness to help out and assist while holding a significant role within the Association and/or on the Board of Executives. The players of this family will also have shown their true hockey spirit on and off the ice. The family will be viewed as a huge asset and role model to the families of SHC.
2021-22 Family Spirit Award Recipient - The Hanssen Family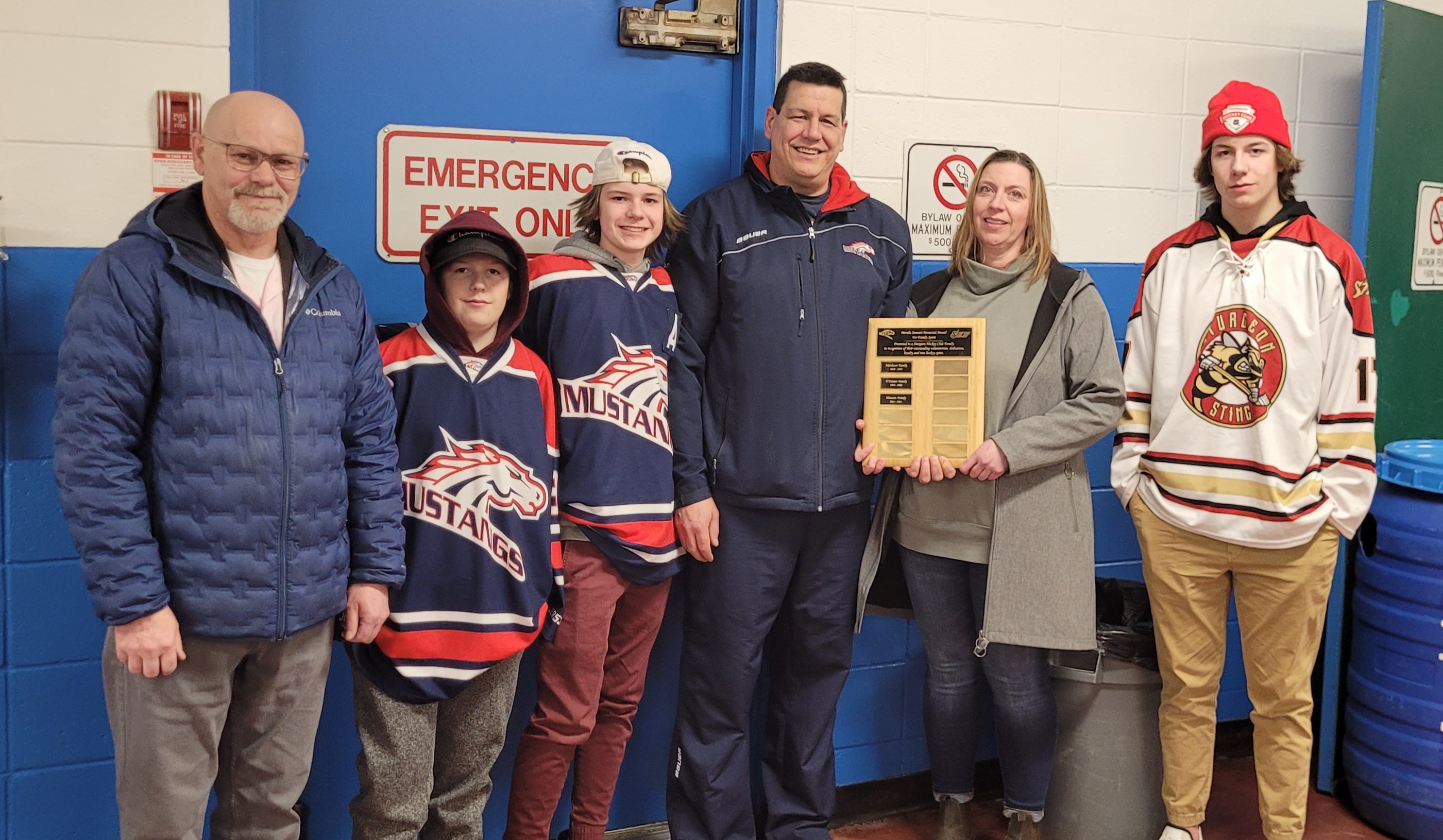 Pictured above are Wayne Gaetza (husband of the late Brenda Stewart) and the Hanssen Family.
"This year we would like to nominate the Hanssen family for the Brenda Stewart award - Donna, Neil, Evan, Ryan and Lucas. We feel that this family displays all of what it means to be a volunteer for our Minor hockey association. We have seen firsthand what each member of the family can contribute to being an outstanding volunteer. Let's start with Donna. She is co-manager of the SHC 501 mustangs (u13) for her youngest son Lucas. She is been very active with team during this season, from helping to plan extra ice, to ensuring that Teamsnap games, practices and other events are updated in a timely manor. Donna also took the time to help plan some extra team time during a local tournament, so families did not have to travel home. She helped plan and prepare a meal for all the team players, coaches and their families, along with board games, poster making and even cookie decorating for all the team. Donna does more behind the scenes than we may see our front, but she is always there when she is needed.
Now to the boys Evan, Ryan and Lucas. Even though all these boys play hockey and are on very strong teams, we see them around not only at other games, but off and on the ice. Both Ryan and Evan are also referee's and we have seen them attend many games working hard. Both these boys turned around and gave their extra time over Minor Hockey week to ensure that games were ref'd and that no team was without. These boys put their hearts into playing the game but helping out where and when they are needed. Lucas is still too young to be a referee, but you can see the eagerness in him to want to help out when he gets older.
Neil, well what can we say about him. Everything. Neil is SHC hockey this year. From sitting on the board of directors, to coaching one team, assisting another and even being a liaison with EMHL. This year we have been fortunate to have had Neil as our assistant coach. When he was on the ice with the kids, you could see that he was giving all he could to make sure that they knew the drills that was asked by the head coach. He pushed the kids to do the drills properly and also k new when to take them aside and show them one-on-one. Neil spends many hours at the rink, ensuring that his boys are at practice, at their games or even referring game that they are scheduled for. We saw much of Neil this year during Minor Hockey week, he was making sure that any games that were held in the SHC arenas went off without any major issues. He spent hours making sure that all the teams had enough volunteers to sell buttons, work time clocks and submit scoresheets. He even made sure that the correct information was uploaded to the MHW website so that all teams knew where they were in the standing."
-SU502 Team
"The Hanssen family are a true epitome of the Canadian hockey family and would be fitting and deserving recipients of this award. If you are part of the Sturgeon Hockey Club, you most likely know the Hanssen family. With three boys in hockey since U7, they have played with many families in the community. If you think shuffling around three boys from rink to rink would be enough, Neil and Donna have been avid club volunteers since the start.
It is safe to say that hockey truly runs in their veins but even more so volunteering. Neil sets the standards in their house as being a member of the Association Executive, as the Director of Leagues. This is a very time consuming role, coordinating between Hockey Edmonton, EFHL and our club. He will also readily help out in any way possible with anyone who has a volunteer role on the Association Executive, hockey operations or coaching. Neil is also head coach for a U15 team and goalie coach on the SU502 U13 team. He always makes himself available to help out or answer questions whenever needed. Even being as busy as he is, Neil makes you feel that your questions are valid and that you deserve to be there, in whatever role that may be. Without a doubt, Neil truly has the kids development and well-being at heart with everything he does.
Neil's wife Donna is also an extraordinary volunteer. She is a co-manager on the SU502 U13 team and always goes above and beyond. Her organization skills have been put to work time and time again, organizing team meals, tournaments and schedules. She has an active role helping out on her other son's U15 team and is constantly pitching in on other teams whenever possible. She has even run music for a U11 team, that she doesn't have any ties with, just because she was there and available to help. Donna has volunteered with the infamous novice tournament for years and is a big reason the tournament was as successful as it was.
The volunteering doesn't stop with them. The two oldest boys, Evan and Ryan, both starting ref'ing this year and were volunteer refs for Edmonton Minor Hockey Week. They said it was their way of contributing and "giving back". Neil and Donna were both arena managers for Minor Hockey Week. A busy job that they tackled with grace, while continuing to juggle their busy hockey schedules, work and other volunteer duties. Their oldest son offered to help out with our SU502 U13 team, as a coaching mentor, and is very helpful and respectful. All three of their sons are excellent players to coach and in general wonderful human beings. They are respectful on and off of the ice. It is clear that they all have "respect of the game and of the organization" instilled deeply within them.
The Hanssen are the true meaning of family spirit! They inspire us to do more and enjoy hockey with our families and friends."
-Jennifer Lockridge, SU502 Head Coach
-Tanya Sloan, SU502 Co-Manager
Junior Coach of the Year
Mike Palma, SU301 Head Coach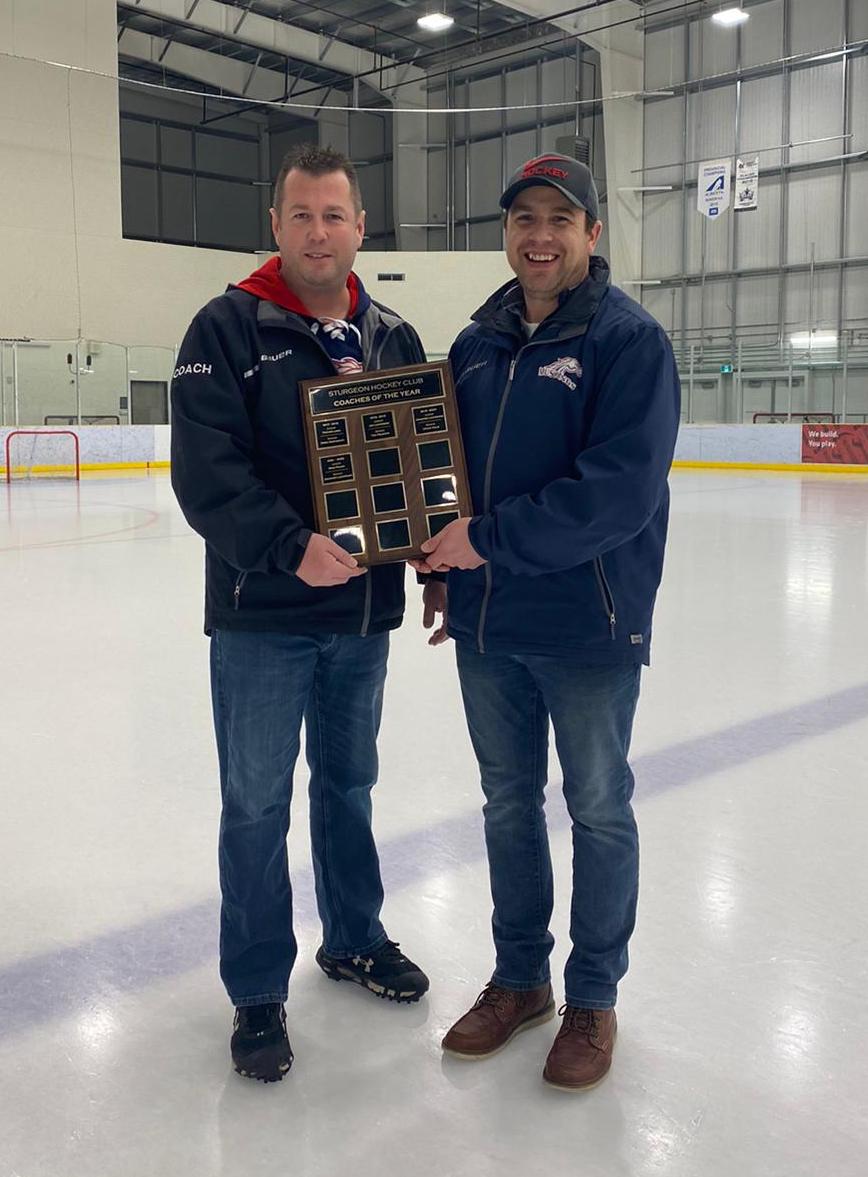 L to R: Mike Palma, SU301 Head Coach/SHC Vice-President and Ryan Cushing, SHC Director of Hockey Operations
"I would like to nominate Mike Palma head coach for SU301 for the Jr Coach award. Mikes dedication to the team is second to none. If it is for the countless hours he puts in developing practice and game plans or volunteering to pick-up and drop off kids for practices or games. Mike is very organized and is the true leader of SU301."
-Weston Koroluk
Senior Coach of the Year
Jennifer Lockridge, SU502 Head Coach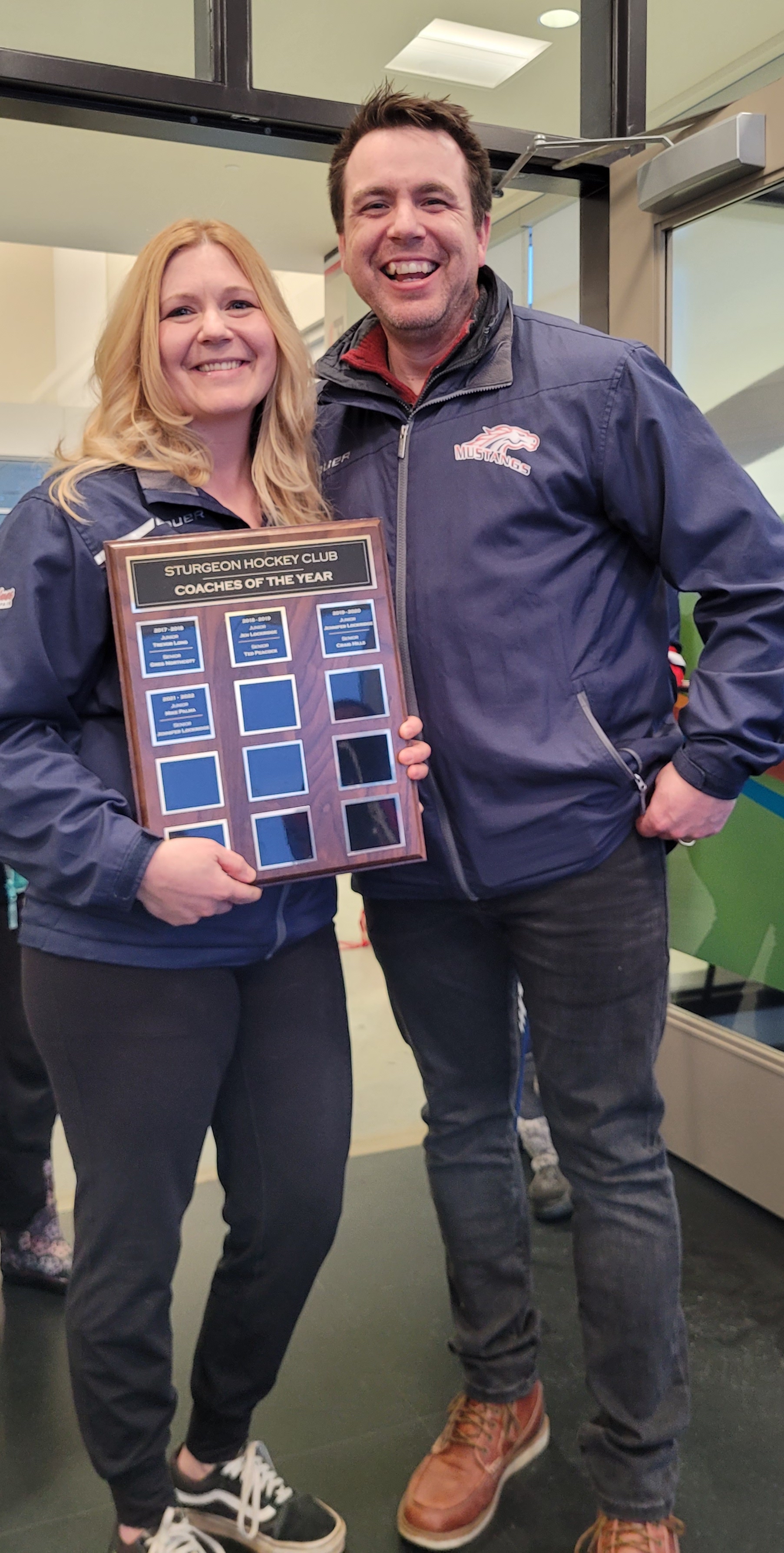 L to R: Jennifer Lockridge, SU502 Head Coach/SHC Director of Coaches and Ryan Cushing, SHC Director of Hockey Operations
"Jen is by far a 100% dedicated coach. The improvement I have seen with the players on our U13 team is astonishing and I don't mean skill only. She is building their confidence , moving them in positions and challenging them to try new skills. A few of our players had an unfortunate year back in Novice and over the years we have heard a lot in the stands about how they have never fully recovered from that experience. You could see they would second guess themselves, not make plays, etc. This year, with this head coach, there has been a turning point and no one can deny that Jen's ability to work with each and every player is the reason. Before, during and after the game she is engaged. Speaking with families about what is going to happen or after, following up on what did happen. She takes time out of her very busy life to make phone calls ensuring her team members are ok or to explain why she might be making a change to line up, etc. My son has been fortunate enough to have Jen as an assistant coach each year however, this was the first year she is his head coach. The leadership she has is top notch and an inspiration to all. There is true teamwork on the bench with her coaching staff and I truly believe she deserves this award."
Thank you to everyone who took the time to nominate a deserving volunteer this year!
*Coach, Volunteer and Family Spirit Awards were selected from nominations sent in by SHC members. An Awards Committee, made up of members from the SHC Board of Executives, reviewed the nominations and selected each recipient.